I'm running FC XE 609, so this may have been fixed in a subsequent release but I didn't see it listed anywhere.
Sometimes the wrong icons will be displayed for filetypes, drives, etc. Refreshing will sometimes fix it, other times there will just a be a new set of wrong icons shown. For example: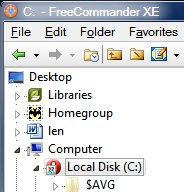 As you can see here, Libraries show the Family Tree Maker icon, Homegroup shows TheBat! icon, my home directory shows the Word icon and the C: drive shows the Opera icon. And so on, for other file types, although some are correct. For example, Word docs correctly show the Word icon, but it's used above as well. But, the Computer icons is correct -- Just a mix.
Totally a non-issue operationally, but I have no idea what's causing it. Great program!
Thanks.